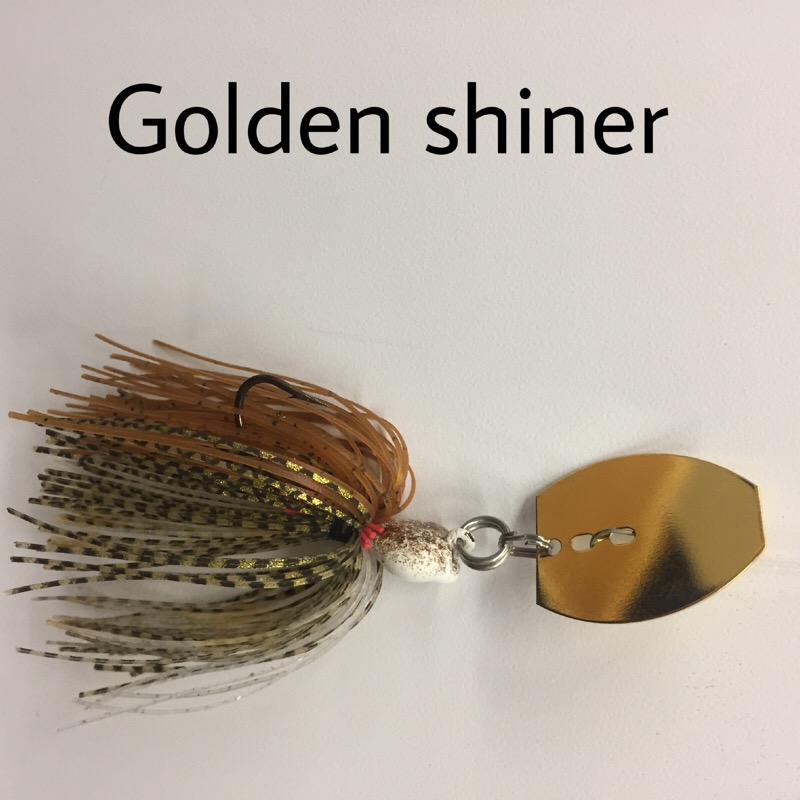 A bladed jig, is a jig with a vibrating blade out in front of it.  The placement of a blade in front of a jig head provides additional flash, vibration, sound, and adds an eratic action. Bass pro Mark Davis, famous for his crankbait fishing, describes the choice of fishing a bladed swim jig as an option halfway between a spinnerbait and a crankbait.  He feels that is fishes better in weedy situations, may be used to cover a lot of water, and acts as a great search bait.
Blade options available include nickel, gold, or black in color.  Blades also are available with bubbler holes for added movement of water.  
The head and skirt color combinations I choose will vary greatly depending upon whether I am trying to imitate craw fish, bait fish, or blue gills in the different lakes I fish.
There are many plastic trailer options as well. My favorite craw fish trailers include twin tail grubs,chigger craws, or rage craws.  My favorite bait fish trailers include paddle tail worms or paddle tail swim baits.
I will vary my retrieve based upon how the fish are reacting to the bait.  
There are many ways I like to fish a bladed swim jig.
cast and wind                     Many fish are caught by just making long casts and retrieving the chatterbait at a constant speed.
vary the retrieve                 By deflecting off of cover whenever possible, many reaction strikes will occur.
pause during the retrieve  By pausing your retrieve occasionally, the bait will fall, and a fish following may strike.
pump rod tip                       By pumping the rod during the retrieve, the blades will stop for a moment and the skirt will flare causing a strike.
fish like a jig                      Cast, let the bait fall to the bottom, and move the bait by raising your rod tip, then let the bait fall.  Strikes will usually      occur on the fall so keep tension on your line.
Fishing bladed swim jigs is a great way to catch a lot of fish.  I highly recommend adding a few to your arsenal for 2019.  Fish on!
Al Rubosky (owner)
BassGrubb-Ohiofish.com