| | |
| --- | --- |
| Posted by Al Rubosky on May 15, 2019 at 5:35 PM | |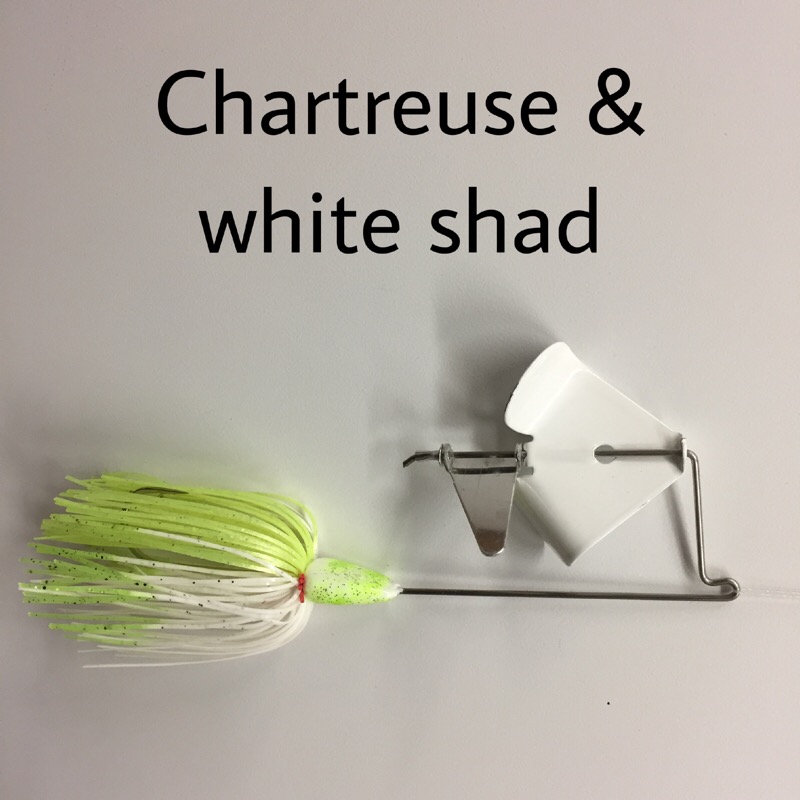 Buzzbaits produce savage top water strikes from bass that actually seem to be annoyed by the disturbance created by the bait.  Buzzbaits are available in many styles and designs.  
straight shaft buzzbaits:  Very similar in design to a spinnerbait, buzzbaits offer a skirted painted jig head, an upturned hook, an overhead rotating blade, and often some sort of soft plastic trailer attached to a wire frame.  Blade sizes vary and are selected to match fishing conditions.  Blades may spin clockwise (cw) and counter clockwise (ccw).  The counter clockwise blade starts spinning immediately and allows the angler to retrieve a buzzbait much more slowly while still remaining on the surface.  Most store bought buzzbaits will spin clockwise and will sink if not retrieved immediately after they touch the water.
buzzbaits with a clacker: This buzzbait is designed with a small triangular piece of aluminum attached on the wire directly behind the blade.  As the blade rotates, it continually strikes the clacker and creates a much louder sound as the bait is retrieved.  A buzzbait with a clacker is popular with anglers fishing in dirty water and are used quite often for night fishing as well.  The different sound created by the addition of a clacker may also provoke strikes by fish seemingly conditioned to the less noisey standard buzzbait offerings.
buzzbaits with a plastic trailer:  Another buzzbait option is a buzzbait built without a skirt.  The angler adds a soft plastic trailer to the skirtless jig head.  Popular soft plastic choices include a frog body or a small paddletail swim bait.
     Buzzbaits may be fished anywhere and at any time of the fishing season.  Many anglers limit their use to just low light conditiions.  I believe that there is no wrong time to throw a buzzbait.  Several productive locations for me include shallow coves and pockets, main lake flats, and near docks. 
I find fishing shallow flats and coves very effective in the spring before and after the spawn.  Bass seem to be especially aggresive at this time of year and you may experience some amazing top water strikes.  I have my best luck when the water temperature is between the mid 50's and the mid 70's.
Main lake flats are also a great  location to find fish most times during the year.  Bass hold on submerged rock, timber, and scattered weeds and ambush passing bait fish.  Buzzbaits are able to fish clean and allow the angler to cover water.   As a buzzbait passes overhead, the bass find it an easy target.
Another great place to throw a buzzbait is around docks once the sun gets high in the sky.  Make casts parallel to the docks, as close as possible.  Try to make the blades strike vertical piliings or the dock itself if possible.  This extra commotion may cause a reaction strike. 
Most anglers prefer using monofilament line to provide a little extra stretch and excellent castability.  Braided line will offer no stretch and may pull the buzzbait out of the fishes mouth during the hook set.  I like to use a baitcasting reel with a 6:3:1 gear ratio and a 7' medium-heavy action rod with a soft tip when fishing buzzbaits.  The lightweight tip allows the fish to inhale the bait, yet the rod is still powerful enough to pull the fish out of heavy cover when necessary.  
Buzzbait fishing is a fairly easy technique that offers exciting topwater action and allows you to catch some larger than average bass.  Buy a few buzzbaits, cast, retrieve, and hold on!
Al Rubosky
Bassgrubb-ohiofish.com